Mechanical Engineering
ONEC provides mechanical engineering services through ONEC Engineering.
Our Mechanical Engineers are experienced working on brown-field maintenance and capital projects. We execute our full scope of services for clients in the power generation, chemical, petrochemical, pulp and paper, oil and gas, manufacturing, waste handling and water industries.
The Mechanical Engineering team is led by Robert Mrzljak, P.L. (Eng).
Engineering Services
Materials handling design
Pressure vessel and fitting design
Finite Element Analysis
Piping system design and stress analysis
Hydraulic analysis
Tank design
As-building and site verification
Construction support
ABSA registration
Multi-discipline project management
Software Suites Available
AutoCAD
Plant 3D
SolidWorks
MicroStation
Caesar II Pipe Stress
CodeCalc Vessel Analysis
Algor FEA
AFT Arrow/Fathom
ONEC provided preliminary mechanical, instrumentation, and structural engineering for the upgrade of a filter system on a client's site. The project consisted of preliminary piping design, foundation design, and review of the 3D scan of the area to identify the location of tiepoints. The 3D model was also used for the review of constructability and cost estimating.
Scope: Mechanical Engineering, Instrumentation Engineering, and Structural Engineering
Completion: 2015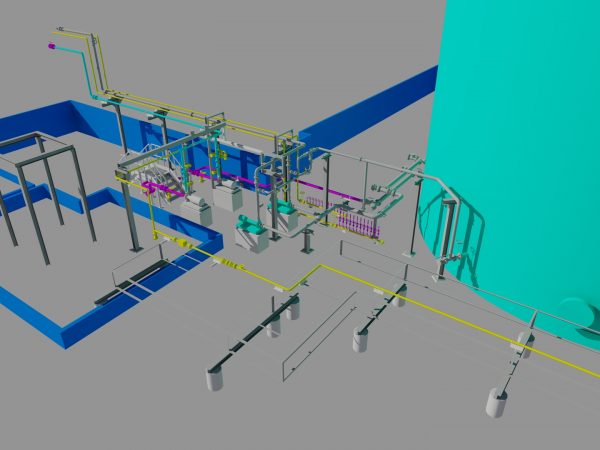 ONEC provided structural, instrumentation, and mechanical engineering services for the upgrade of existing sulphur transfer pumps at a client's site. The project consisted of new pedestals for the pumps, jacketed and steam traced piping, and tie-ins to existing piping and tank systems.
Scope: Mechanical Engineering, Instrumentation Engineering, and Structural Engineering
Completion: 2016
Design, Build, and Construction Management (DBCM)
ONEC provided full DBCM services for a $13.2M expansion to its biosolids dewatering, storage and unloading facility. The project was operational in less than 1 year from project kickoff and met the client's schedule and budget for much needed expansion to its ability to handle biosolids from the growing population. The project included new centrifuges, tank modifications, biosolids pumps, silos, buildings, HVAC and truck loading equipment.
Scope: Multi discipline construction management, safety management, electrical and controls, and subtrades
Completion: 2015
ONEC provided engineering and construction services to retrofit an existing diesel power plant with a new generator. The power plant required upgrades to its existing structural and mechanical infrastructure, including new supports for the generator.
Scope: Mechanical Engineering and Field Fabrication
Completion: 2016
S02 Treatment Design System
ONEC carried out engineering and design services for the installation of a new process at its recycled petroleum catalyst facility in Fort Saskatchewan, Alberta. The project involved project management services and civil/structural work to provide drawings/designs required to engineer the placement of the storage and reactor tanks, containment systems, and reactor pump skid.
Scope: Mechanical Engineering, Project Management, Civil/Structural Engineering
Completion: 2008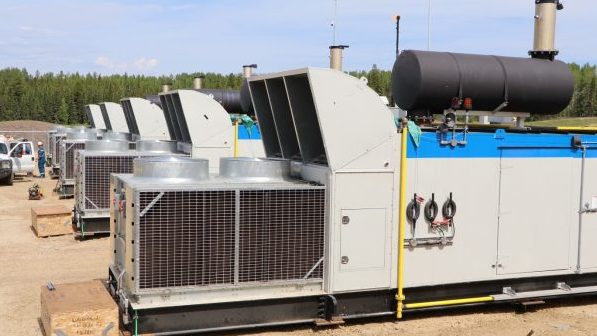 ONEC assisted a client with the install of 6MW of generation capacity at the client's facility. The intent for the project is twofold – one being to consume waste gas and offset environmental concerns and two – to feed power to the grid. ONEC's responsibility on this project was Engineering, Procurement, Construction and Commissioning.
Scope: Procurement, Construction Management, Construction, and Commissioning
Completion: 2016
ONEC was contracted by a client to design, procure, construct, and install the replacement piping for their in situ facility's acid line. After providing an initial scoping study and design of the piping for the changeover, ONEC procured materials, completed offsite pre-fabrication work, and onsite construction of the piping system. The onsite construction work including testing and restoration of the pipe and installation to prepare for commissioning.
Scope: Mechanical Engineering, Field Construction, Shop Fabrication
Completion: 2013