Upstream Engineering
ONEC provides upstream engineering services, specializing in land-based drilling rig design. We offer industry leading engineering and design services for manufacturers, owners, and operators.
For upstream engineering inquiries, contact Tyson Springer, P.Eng.
Engineering Design & Product Development
ONEC Upstream generates drilling rig structures, machinery, equipment, and processes that are creative and practical. Our API Design Packages are regarded as the best in the industry. 
Rig Inspections (API and CAODC)
Our experienced team of engineers are quick to mobilize and are familiar with both new and old equipment. Extensive field experience ensures our customers get the right solutions for their existing oilfield equipment.
Validation Services
Our team utilizes cutting edge analysis tools to validate designs and ensure safety, functionality, and longevity. We analyze Static Loading Scenarios, Dynamic Loading Scenarios and Environmental Loading Scenarios.
Design Drafting
ONEC Upstream designers strive to deliver quality construction drawings that are well suited for part processing, fabrication, and component assembly. Working from existing 3D models or engineered drawings, we develop custom drawing formats to suit client processes. The end result is minimized waste and a reduction in fabrication time.
Rig Designs
We have a notable catalogue of centerpiece drilling rig designs and supporting auxiliary components. These designs are often used as starting points for generating a customized configuration. All of our centerpiece drilling structures are designed to API 4F standards, and are developed to encompass the full cycle of a drilling operation – from transportation to over-the-hole functions. ONEC Upstream centerpiece structures deliver an impressive blend of advanced technology applied with a practical approach.
ONEC 142-825 Heavy Triple
ONEC 142-750 Heavy Triple
ONEC 142-550 Light Triple
ONEC 136-500 Light Triple
ONEC 147-1000 Heavy Triple
ONEC 105-500 Heavy Double
ONEC 115-500 Mobile Artic
Managed Project Services
ONEC Upstream offers a diverse catalogue of products that will assist in optimizing your drilling assets' performance. Our portfolio of products can be deployed and put to work, even in the most demanding of times. All of our products can be applied to our Managed Project Services program to customize features, allowing you to incorporate ONEC technology into any drilling asset. Our unique fabrication management allows us to provide our product in the most urgent of circumstances.
Overhead Bop Trolley Systems
Our Bop Trolley Systems are a means of improving safety and efficiency for all BOP handing operations. Designed with the user in mind, these proven systems can pair with existing trolley beams or be packaged with a trolley beam addition to your substructure. Custom designs are available upon request.
Pony Sub Series
ONEC Upstream designs and manufactures a full range of pony substructures for rig centerpieces. All models can accommodate a range of centerpiece designs and capacities. Custom designs are available upon request, including external pin-on walking system for swing-up pony subs.
Move System Series
ONEC Upstream designs and manufactures moving systems to suit a full range of drilling structures, from light, quick-moving rigs to large capacity centrepieces. Our moving systems are flexible to fit multiple rig styles.
Powered Catwalk Series
ONEC Upstream's hydraulic catwalks are designed to suit custom rig installations for existing rigs or new rig design specifications.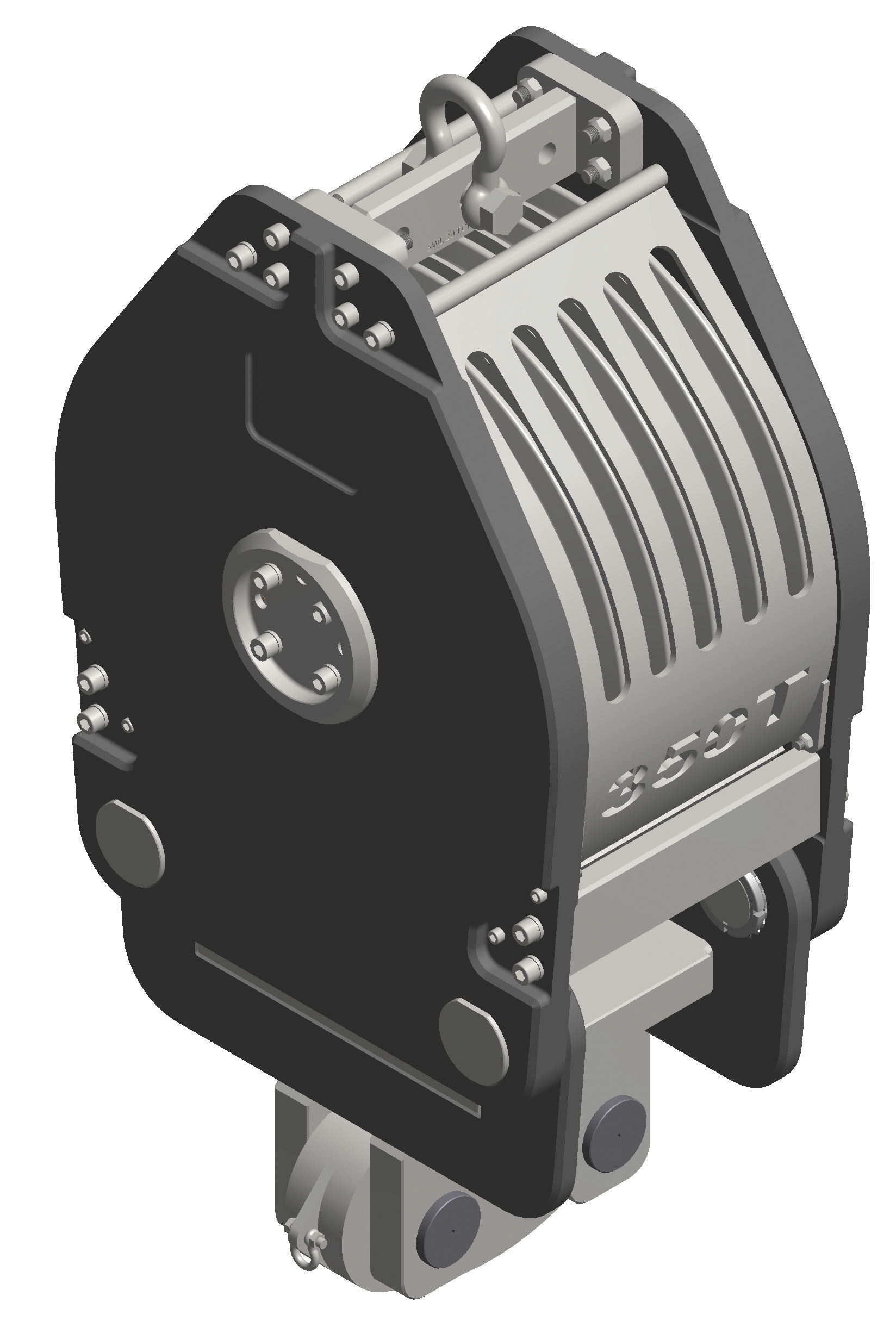 Traveling Block & Becket
Our traveling blocks offer a wide range of capacities that suit all drilling rig applications and environments. We offer competitive pricing, and have built our reputation by meeting customers' demands with impressive delivery and performance.
Deadline Anchor Series
ONEC Upstream's deadline anchors are designed and manufactured in North America. Each deadline is inspected, certified, and monogrammed to API 8C.
Deadline anchors can be designed and manufactured to suit custom applications.
BOP Plate Lift Series
We design and manufacture a full line of BOP lifting plates, and offer several styles and models to be compatible with most common annular components. Our BOP lifting plates are compatible with most standard overhead BOP trolley systems.
Our engineers use only the best analysis tools to validate designs
,
and ensure safety, functionality, and longevity. Our tools include:
Finite Element Analysis (FEA)

Stick and Nodal Structural Analysis

Automated calculations

Physical testing
Our team is also familiar with validating the following ABC, ABSA, API, AISC, ANSI, ASCE, ASME, ASTM, AWS, CAODC, CSA, IADC, IBC, NACE, NBCC, SAE design codes.
At ONEC Upstream, we take the time to really listen to you so we can fully understand your project needs and requirements. And if your needs change, we're ready to adapt and implement new solutions.