Welcome to the newest edition of ONEC Advantage – our quarterly newsletter that highlights the most exciting news, achievements and information from ONEC. We hope this quick summary provides you with deeper insight into how we work and how we can help you work better.
---
MICHEAL DUDEY IS RETIRING
After nearly 13 years and much contemplation, Michael Dudey retired from ONEC on September 2, 2016 to spend more time with family and do some travelling.
Michael was instrumental in helping build Oncore Services (now ONEC Construction) starting in 2004 when we recognized our clients' preference for a "one-stop shop" solution to their project needs. Offering full construction services, in addition to engineering services, allowed us to better integrate with our clients and provide more thoughtful and complete projects. With his industry contacts, his passion for the business, and his care for our clients and employees, Michael was crucial to the success of ONEC.
We wish Michael all the best with his retirement!
---
ALBERTA RENEWABLES
The landscape of Power Generation is changing. With the Alberta Climate Leadership Plan and the recent RFI for 135,000MWh of new solar generation by 2018, there is a need to review existing systems and start planning for the future. ONEC can assist in that plan by providing feasibility studies, detailed design and installation for your solar projects. Many of our clients have great potential within their existing facilities to incorporate solar power. Any facility with a large roof structure and south facing exposure can prove to be ideal for a solar installation.
Contact us for any projects or questions you may have on how this could be a benefit for your facility.
---
PROFIT 500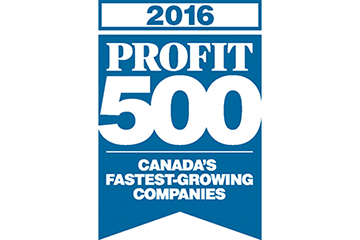 ONEC is proud to announce that we made the Profit 500 List for 2016. With all of the economic uncertainty in Alberta, this is a testament to the strength and resilience of our organization. Our success is heavily dependent on our client relationships as well as the fortitude of our employees.
You can find us at number 315 on the list:
http://www.profitguide.com/microsite/profit500/2016
---
ONEC EHT SERVICES
At ONEC, we offer complete electrical heat tracing (EHT) services, from engineering and design, to installation and inspections, or third party design audits. We leverage strong relationships with suppliers to provide the best equipment to suit your needs. What's more, we work hand-in-hand with our construction experts to ensure each and every design is cost-effective, safety compliant, practical and constructible.
As summer draws to an end, it is time to start executing your EHT work to ensure your plant is ready for winter. Taking a proactive approach will help avoid costly equipment failures or production downtime that could result with an EHT failure. Some common plant winterization program elements and pre-checks include:
• Ensure all EHT systems are in a ready state
• Ensure insulation installation is complete
• Confirm there are no EHT controller alarms
• EHT cable testing for expected lifespan; identify near failure results
• EHT feeder cable testing for safe re-energization of the system
• EHT RTD testing for accurate temperature detection
• Instrument tube bundle condition inspection and testing
• EHT communication system testing
• Hardwire EHT alarm testing
We can provide services to help mitigate these by:
• Providing resources to complete audits and recommended lists of minimum repairs to your existing systems to ensure they are ready for winter.
• Providing factory certified EHT installation training at either your facility or ours.
• Providing factory certified EHT controller programming training at your facility or ours.
• Providing factory certified QA/QC training (includes detailed EHT drawing reading, and requires a Typical EHT drawing for tour specific site).
• Providing engineering reviews of existing EHT designs to look for efficiency and cost savings for installation and long-term maintenance.
• Providing engineering reviews of P&IDs and EHT zone drawings to ensure the installed EHT system meets your plant's needs. If not, we will point out the problem areas, estimate recommended repairs and assist with scheduling those repairs into the plant maintenance plan.
• Completing MOC work packages to ensure timely execution prior to winter.
• Providing QA/QC inspections for recently completed EHT installations prior to operations turnover.
• Providing EHT commissioning support for upgraded/repaired installations.
• Providing CEC required engineering review of all MI length changes over 3%.
• Providing on-call engineering support as required for the duration of the winter.
Contact Shaun Jones for the retainer fee.
Don't wait until the plant manager scrapes the frost off his truck window before you start thinking about EHT. Get it operational and function tested before it's needed!
---
ARC FLASH SAFETY
Electrical safety is always at the forefront of our clients' minds. Many facilities with aging equipment require evaluations to determine if they meet today's standards for safety. ONEC Engineering can provide arc flash evaluation of existing or new power systems. Some benefits for facilities to conduct an arc flash evaluation include:
• Safer power systems while insuring compliance with OSHA and NFPA 70E standards.
• Protective device coordination of electrical devices to mitigate any potential nuisance tripping and plant downtime.
• A safer working environment by specifying the proper level of protective clothing (PPE).
• Improved general awareness and safety of personnel through the presence of arc flash labels affixed to appropriate electrical equipment.
Please contact us if you would like to discuss the needs and solutions of your site.
---
ONEC CONSTRUCTION OUTAGES – TURNAROUNDS – AUGUST THROUGH OCTOBER 2016
Sherritt International
From August 15th to 23rd, ONEC crews performed an operations shutdown project at the Sherritt refinery in Fort Saskatchewan, Alberta. The scope consisted of demolishing an existing 180 foot elevated conveyor gallery including tower supports and auxiliary infrastructure with a total weight of 110,000 pounds. That was replaced in kind with new stainless steel ONEC fabrication shop-built modules earlier this summer. There were challenges faced with the fluid nature of the work but ONEC's adaptive responses to the shifting scope kept the project on time and on budget. ONEC would like to extend our gratitude to Sterling Crane, Rally Engineering, Belterra, Merestone Geomatics and of course Sherritt for everyone's hard work and input making this turnaround a successful team effort.
Air Products
On September 6th we started another outage at Air Product's newest facility in Fort Saskatchewan. This outage is ongoing and effective October 25th, ONEC added a night shift in addition to the existing day shift for the goose neck installation and removal of blinds.
The scope of work includes installing the goose neck, removing blinds under nitrogen purge and tensioning, finishing and installing the last (structural) platform and welding several valves. General maintenance work also includes startup support, project management and coordination of various tasks, as minor changes to scope to include additional repairs are not uncommon.
ONEC has successfully worked on various maintenance and outage projects with Air Products for nearly ten years. Through our commitment to quality and safety along with ONEC's ability to adapt to the clients' needs, we maintain a strong business relationship with Air Products.
We thank all our hard working field crews, onsite management and office staff for contributing to the ongoing success of this outage.
Canadian Fertilizers – Reformer ReHarp Project
The Reformer ReHarp Project was planned, constructed and completed over a four month period.
ONEC was involved in the four week constructability sessions which took place from June 27th until July 22nd. This included breaking out and detailing tasks, allowing ONEC to assign manpower and duration for each task to be input into the Primavera P6 schedule.
ONEC held a job fair for trades in July which generated 20-30% of manpower hired locally from Medicine Hat.
The outage in Medicine Hat started on August 24th and was completed October 14th for a total of 52 days. Our peak manpower was approximately 60 people onsite in early September with day and night shifts throughout the project.
---
QUESTIONS OR COMMENTS?
At ONEC, we love hearing from our clients. If you have any feedback regarding this newsletter, suggestions for future editions or any other general inquiries, please feel free to contact us.