Thermon Factory Certified EHT Installation Training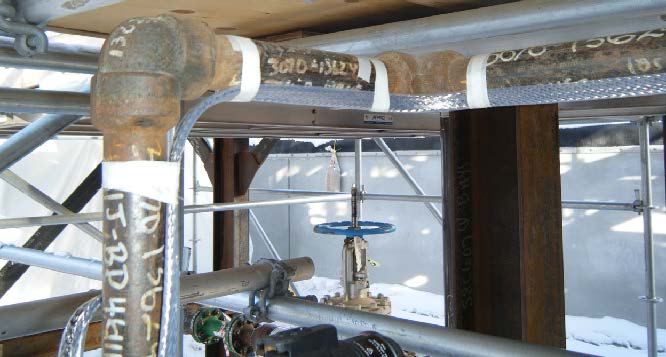 Register Now
Overview
This course provides participants with a practical understanding of the fundamentals of industrial electrical heat trace (EHT) installation, product application, controller alarms and technical consideration encountered when dealing with both new installations and brownfield additions to EHT systems.
After participating in this course you will be able to:
Choose the correct EHT installation method based on knowledge of different products and their limitations
Safely install EHT systems to ensure that you, the insulators and plant maintenance personnel don't get hurt. Also, an exposure to products available to make an EHT installations more safe
Correctly apply the typical rules for an EHT installation
Read and understand the information on an EHT zone drawing
Complete EHT installations involving pipe, valves, tees, elbows, instruments and supports
Provide meaningful EHT test data from the receipt of material through to commissioning
Understand the meaning behind EHT controller alarms and gain insight on how to fix the root cause of the trouble
Each participant will receive a Thermon EHT Installation Booklet and a personalized Thermon Certified EHT Installer wallet card
Description
Thermon Factory-Certified EHT Installation Training will provide an introduction to the different types of EHT, the capabilities and usage limitations of each type, how EHT needs to be installed on equipment so the manufacturer's warranty remains valid and conforms to the requirements of the CEC.
The course will cover reading and understanding the information on a typical EHT zone drawing, programming of an EHT controller and the typical alarms that show up on the controller. If desired, the course can cover specific drawings used for a project or used by a specific client (drawings will need to be provided to tailor this section for your requirements).
Finally, this course will cover the normal tests required (type, when, duration), typical test sheets and procedures that should be followed for problem free turn over. We will also explore frequently encountered 'what's wrong?' questions tied to typical EHT alarms and the direction to follow for troubleshooting them.
Who Should Attend
Electricians, installation contractors, project engineers, project managers , project estimators, and consultants
Industrial, utility or plant electrical engineers, operations supervisors and maintenance personnel
Technologists, technicians and designers responsible for the design and testing of EHT systems
Personnel wishing to understand the costs associated with EHT installations
---
Syllabus
Faculty: Paul Mishak, Senior EHT Specialist
Basic EHT

Familiarization
Installer safety

Typical Rules for EHT

Installation

How to Read EHT Zone Drawings

Typical EHT Installations on Equipment

Straight pipe
Elbows
Tees
Valves
Supports

EHT Testing Requirements

Upon material receipt
Prior to installation
Prior to insulation
Prior to energization

EHT Controller Alarms

What do they mean?
Why you need to determine the root cause and how to fix it rather than acknowledging and clearing the alarms all winter.

Daily Schedule:

7:00 Registration and sign-in
7:30 Course begins
9:00 Break (15 minutes)
12:00 Lunch (1/2 hour)
3:00 Break (15 minutes)
5:30 Adjournment
---
Instructors
Paul Mishak, CET, Senior EHT Specialist
Paul was Shell's EHT specialist for the startup group on the MEG, AOSD and SUEX-1 projects; holding responsibility for a total of more than 50,000 EHT zones, 900 EHT multipoint controllers and 2000 km of installed EHT. Has worked with all of the major manufactures of EHT systems, including many whose companies no longer exist but still have maintainable product installed in Canadian facilities.
Paul has been instructing EHT design and EHT installation for over 15 years.
Location
Thermon-Certified EHT Installation Training can be delivered at your project's site, your company office or here at ONEC. The base price per participant will remain the same; only the extra costs associated with travel, lodging, meals, etc. will be added for training outside the Edmonton area.
Register Now